PayAnywhere: All-In-One Campus Payment With Storefront and Mobile Solutions: 

It is a perfect system for: book stores, coffee shops, stores, athletics, event tickets, conferences, fundraising, and more…   

Mobile Solution:  Connect through a Bluetooth to a mobile phone – Accept Payments Anywhere and Any Time
Mobile Solution – Accept payments any way your students want to pay!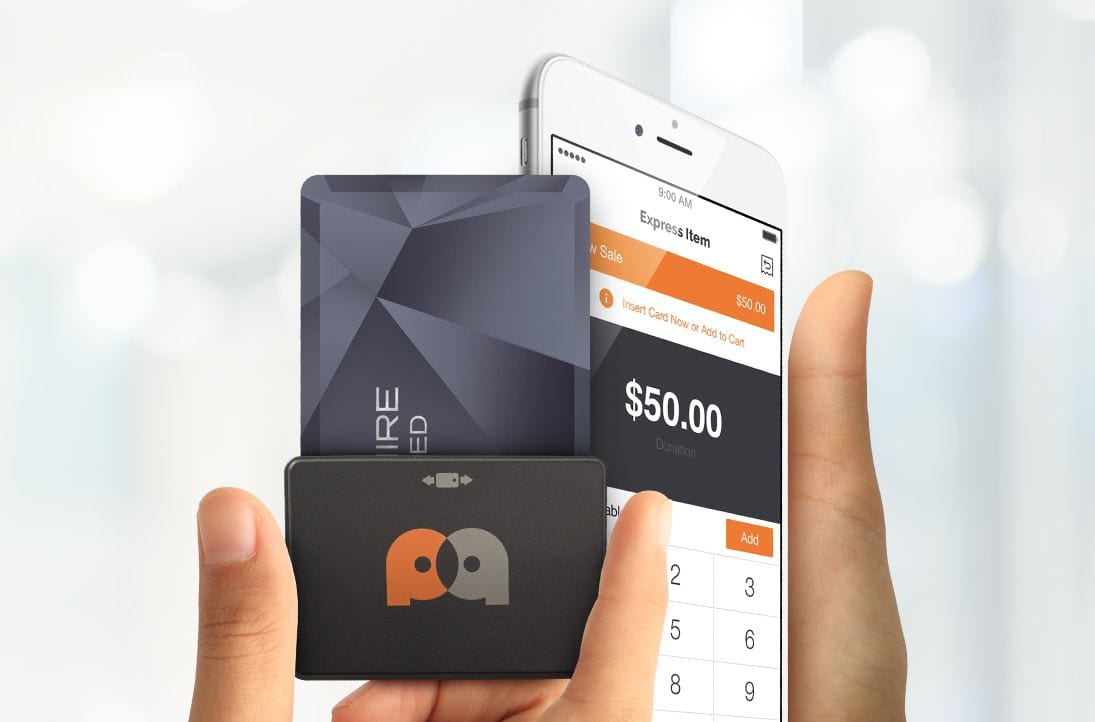 PayAnywhere: Complete this form to request a No obligation demo
Storefront Solution:  Perfect Solution for Campus Bookshops, Stores, Coffee Shops, and More….
Receipts: Customize receipts with school logo, business information and customer feedback. Print, email, or send by SMS to your students.
Manage transactions: Filter by date, type, and employee. Export reports.  Perform voids and refunds.
Express Sales: For quicker transactions, use a simple interface that works like a traditional credit card terminal.
Preauthorization: Hold a customer's balance until the transaction clears.
Discounts:  Create a library of preset discounts based on percentage or dollar amount, or add one on the fly.  Apply to an entire order or a single item.
Invoices:  Create and send email invoices from PayAnywhere Inside or the PayAnywhere app and let your customers pay online.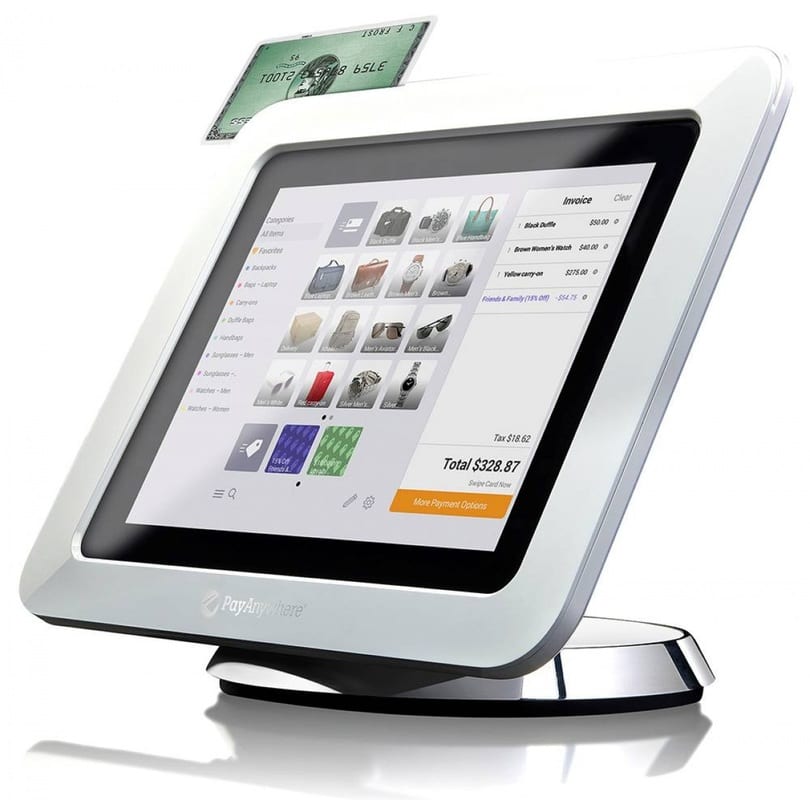 Easy to Use PayAnywhere All-In-One Campus Payment Solution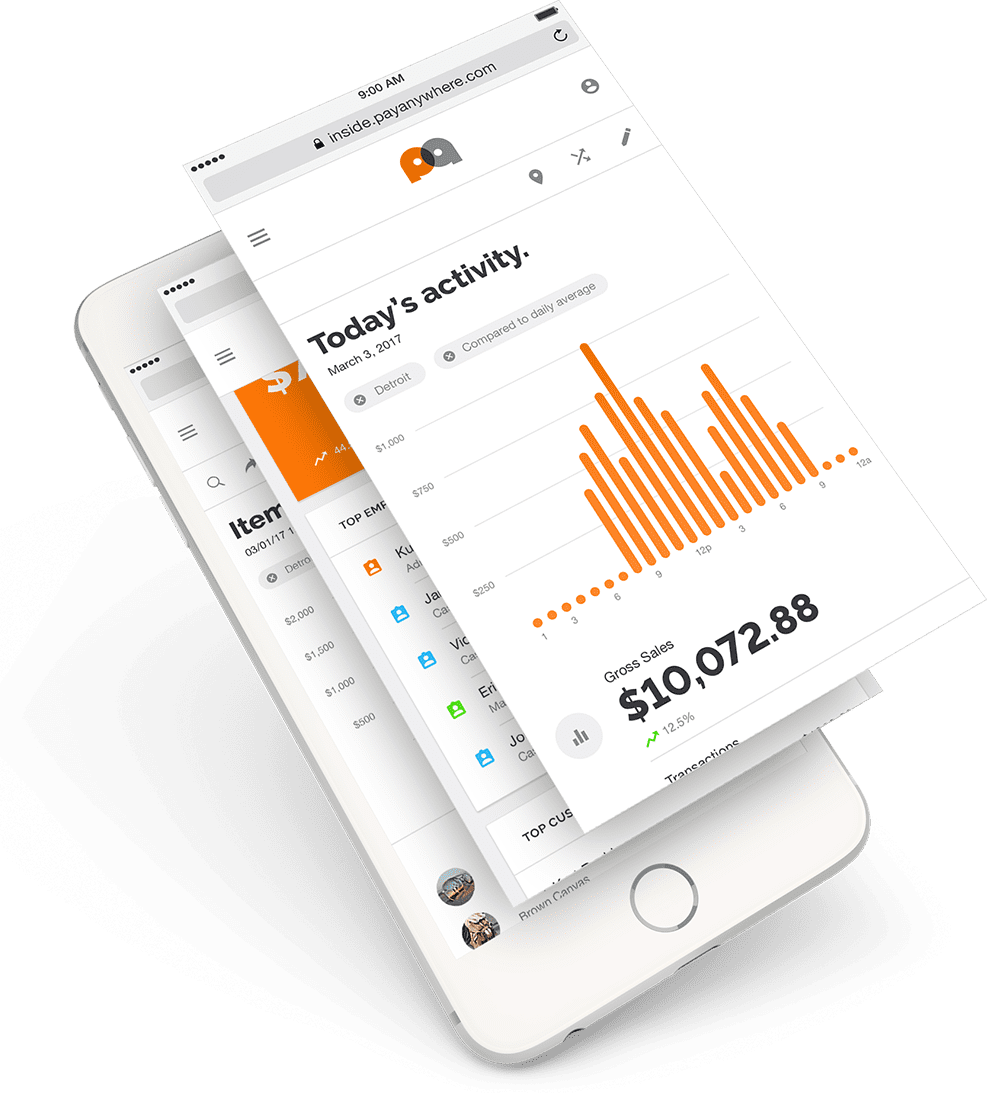 Payments:
Process sales, including split payments and pre-authorizations. Offer discounts and set tip and tax settings. Perform refunds and voids as needed.
Create and send invoices to let your students pay later online.
Offer customers receipts via email, text message or printed.
Employees:
Add your employees to accept payments on your behalf.
Manage employees with varying levels of access to the PayAnywhere app and PayAnywhere inside.
See how your employees are doing with Employee Performance Reports.
Inventory:
Create and manage your inventory, complete with categories, modifiers, multiple prices, and discounts.
Add in-stock counts to track stock and get notified when inventory is low.
Import your items to be uploaded in bulk and save time.
Reporting:
See real-time reporting in-app and on PayAnywhere Inside.
View deposits and transaction information.
Pull custom reports on your sales, customers, and employees.
Testimonials
Pamela J.
Director of Finance, Universal Career College
I like that Compuwerx Tuition Management System offers a lot of flexibility and power in managing billing, collection and payments while still staying simple to use. Students are actually paying us on time with the system.  Our tuition payments have increase by 45% and at same time the delinquent payments have been reduced by 20%. The 12-hour funding has improved our cash flow.
John O.
Director of Student Accounts, North West College
CompuWerx Tuition Management System has helped us become 95% more efficient with billing and collecting student payments. Whether we are at meetings, or it's the weekend and holidays, CompuWerx is working 24/7. Our students can pay one time, bi-monthly, monthly, quarterly, bi-annually, or annually with CompuWerx. Our payments have increased and delinquency payments have been reduced tremendously. Thank you CompuWerx for helping us to improve cash flow.
Timothy K.
Controller, Bay Area Community College
Our administration and students appreciate the Free Payment Plan option.  The students feel more comfortable setting up their payment plans at registration knowing there are no added fees.  Our business office has noticed a lot less phone calls and delinquencies.  We would recommend CompuWerx as your only method of collecting payments.
Deborah R.
Central Texas Christian College
CompuWerx offers outstanding customer service.  They took their time training our entire business office staff and are always available to answer any questions. Great service! A very responsive team! Thank you CompuWerx!
Rosemary M.
Bursar, Columbia College
We switched to CompuWerx last year and noticed a huge decrease in processing fees.  Before we started, my office did extensive research and found CompuWerx had the best processing rates and fees in the market.  We have definitely been able to save time and money as promised using their payment system.  I am very satisfied and will remain a happy CompuWerx client.