Here are some guidelines for our most frequently asked questions and troubleshooting.
Behavior for Account # Field
To Edit/Remove Student ID# from QuickPay, go to Settings - General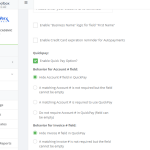 and click on "Hide Account # in QuickPay Field". This option maybe less confusing for your students when they make a QuickPay but this will result in several accounts open for the student that cannot be linked together. (Click on the screenshot to view.)
Student ID Number is Required for Registration Process
To further refine our student registration process, we have removed the ability of the student to register without a student ID number. This ensures that each student's record is unique within our system. We did this by checking the option below for each school:
Although it is still an option we strongly recommend that you leave this in place. With this option checked, each student must have a student ID to register in Compuwerx TuitionPay. The school admin will need to create the new student ID, first, and last name in the system before the student registers in CompuWerx TuitionPay.  As a student registers they will need to input their student's id. The system will pull up their first and last name from the system.  Then student can continue to register, create their user ID, and password.
Refunds
Please wait 7 full business days before issuing a refund for e-checks payments until the funds have been settled in your bank account.
The system cannot refund credit cards after 30 days and e-check payments after 60 days.
Please note that when you process a refund, convenience fees are not refundable.
Payment Limits
To avoid fraud, the system will only accept payments of $15.00 and over.
Declined or Returned Autopayments
We want you to be aware that once your student's payment is declined the AutoPayment will be cancelled. A new AutoPay will need to be set up by the administrator or student using a new payment method.
You and the student will receive an email notification regarding the declined/returned payment. The best option for our schools is to go the 'Reports - Autopayments - Cancelled' to check. If you have any questions, contact us to help get your AutoPayment active again.
Returned Checks
Please whitelist the following ID: FNBCT Waco / ID #9000695765. This will allow the echeck to debit to the account and prevent any future student's payments being placed on hold by echeck processors.
Avoid Multiple Student Profiles
To avoid the problem of creating multiple profiles for the same student, please use your student ID for their profile.
Invoicing
Make sure the student is registered including a Student ID# in you Student Roster, otherwise an invoice will not send to the student.
Paul Mitchell Schools - Prevent Payments to the Wrong School
Please communicate to your students they need to make payments on your school's website. We have been experiencing some issues with students making payments to the wrong Paul Mitchell School, as they are going online and using Google to choose the wrong school. Additionally, please let them know they cannot make any payments through the Compuwerx website.
For reassurance and so as not to create any further problems, you can go to 
Settings - Categories and Edit your Categories. Edit your category so other PMTS students do not make their payments to your school by mistake (i.e. PMTS (school name) Tuition, Registration, etc. (Click on the screenshot to view.)
We would like to encourage schools to create a payment page QR code for their school and post it through their school or email it directly to their students. This will make it easy for students to make their payment to the correct PMTS school.
Head to qr-code-generator.com.
Enter the URL for your school's payment page.
Customize your QR code's frame, shape, and color.
Click 'Download' and save the file to your computer.
Share your QR code with your students via email or web.
Quick Tutorials for Admins and Payors
Your Administrators can access a tutorial for them through their Admin Dashboard and click on Support. Your Payors can access a User Guide in the Payor Portal on the upper righthand of the first page when they are Registering, logging in or making a QuickPay.
Our 'how-to' videos walk administrators and students through using our online payment software.
How to Adjust Admin Dashboard Settings
Autopayment Reports - Instructional Video
How to Use Transaction Reports
How to Make a Student Payment Online
eTerminal Payments for Admins
New Resources for Schools
Our new client resources are up on our website, including downloadable flyers, webinars, our educational blog, and YouTube tutorials.
Convenience Fee Statement
Below is a statement regarding convenience fees for your school to share with its students:
We are offering our students a convenient and easy way to make payments online instead of coming to our office with checks or cash. Online payments protect student's privacy and avoids identity theft, and payments are accepted online 24/7, 365 days a year. Our convenience fees are set at x% for credit/debit cards and x% for e-check payments.
Chargebacks
What are chargebacks and how do they work? A chargeback is the reversal of a transaction back to the payer. This differs from a refund in that chargebacks are initiated by the payer's bank when a transaction is disputed or marked as fraudulent. In addition to the school returning the payment, a processing fee is usually added to each chargeback. We've put together some information about chargebacks here.
Compuwerx Support
CompuWerx Customer Support does not refund, void or make changes to autopayments for your students  parents. These types of requests will be referred back to your school's front office.