Helping Schools to Succeed
More Than 30,000 Clients Daily Trust Compuwerx's Tuition Management Solutions.
Increase your school's revenue, enrollment & reduce costs. You will be helping families manage tuition costs through recurring monthly payments using echeck, credit card and debit card.
At CompuWerx, our mission is to help schools, colleges and universities implement the most convenient and streamlined tuition & fee payment system. Increase on-time payments while reducing delinquencies, bad checks, and hours of data entry!
Schools, College and University: Complete this form and a member of our sales team will be in touch to schedule a quick demo.
Students and parents love the ease of our online payment portal to view their account and our simple tools to manage their payment preferences. Our tuition software eliminates the need for data entry and reduces the resource drain on your administration, saving both time and money!
Your college or university can instantly send tuition e-invoices with a direct link to "Pay Now."
The simplest and fastest payment tools: our 1-Click Payment feature and QuickPay allows students to pay without logging in!
Our online tuition software is fully responsive across all devices: Desktop, Mobile and Tablet.
Twelve-hour funding to your college or university's bank account.
FREE payment plan set-up to allow students the option to pay monthly, quarterly, or by semester.
The lowest rate in the online tuition industry to process your payments or donations.
CompuWerx Tuition Payment System has proven to:
Increase on-time payments by 60%
Cost savings of up to 50% versus our competitors
Increase cash flow by 100%
Reduce delinquency rate by 10-25%
Cost Savings with No Contract – No Termination Fees; No Annual Fees, No PCI Compliance Fees; No Payment Plan Setup Fees, etc.
Time Savings – Monthly Auto Payments, Auto E-invoice, Auto Payment / Invoice reminder, Auto Email Receipts, Extensive Reports.
Questions? Contact us at 708-234-9510 or support@compuwerx.com
We empower schools to have complete control and maximum flexibility of the payment collection process with the most secure, fast, easy and effective way to bill, collect and manage tuition payments.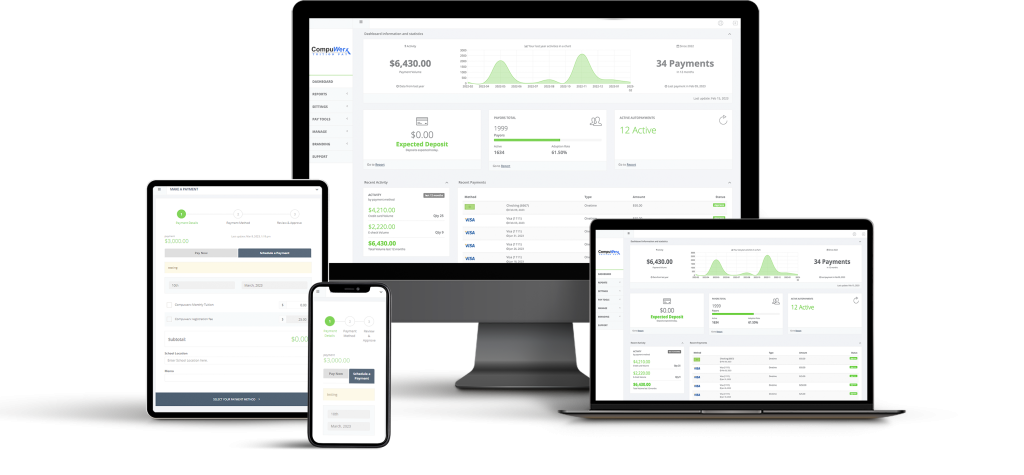 Compuwerx Tuition Management School Benefits
The Highest Security and PCI Compliance
The Most Secure, Easy, Fast and Effective Tuition Management Solution for Schools
Schools are in Control of the Payment and Donation Process
Reduce Operational Costs and Labor
12-Hour Funding
Decrease and Prevent Delinquent Payments
Eliminate Bad Checks/Payments
Flexible Payment options by Credit/Debit Cards and Echecks
Monthly Savings with our Low Processing Fee
E-invoicing with a "Pay Now" Feature Built Directly into the Emailed Invoice
Auto Payments with One-Time or Recurring Payments
Easy Integration with Various Accounting Software
Convenience Fee Helps Schools Accept Tuition Payment Without Incurring Additional Costs and Fees
Accept Payments Anywhere by Phone, Tablet, PC, or Laptop